ABOUT THE AWARDS
DBIA Southeast recognizes exemplary applications of Design-Build Done RightTM that, at a minimum, resulted in highly successful design-build projects achieving best-value while meeting design and construction quality, cost and schedule goals. Winning projects and team members exemplifying design-build best practices will be celebrated publicly through DBIA Southeast's awards programs and external promotion.
DBIA is proud to celebrate the teams and projects that push the boundaries of possibility for design-build project design and construction.
To be considered for a design-build award, projects must demonstrate successful application of design-build principles including, but not limited to, interdisciplinary collaboration in the early stages of the project and the acceptance of single-entity risk. The goal of completing projects on-time and on-budget (and with no litigation) is not a criterion for winning an award — it is a minimum standard for all projects submitted. Winning projects are honored for the advanced and innovative application of total integrated project delivery and finding unique solutions for project challenges.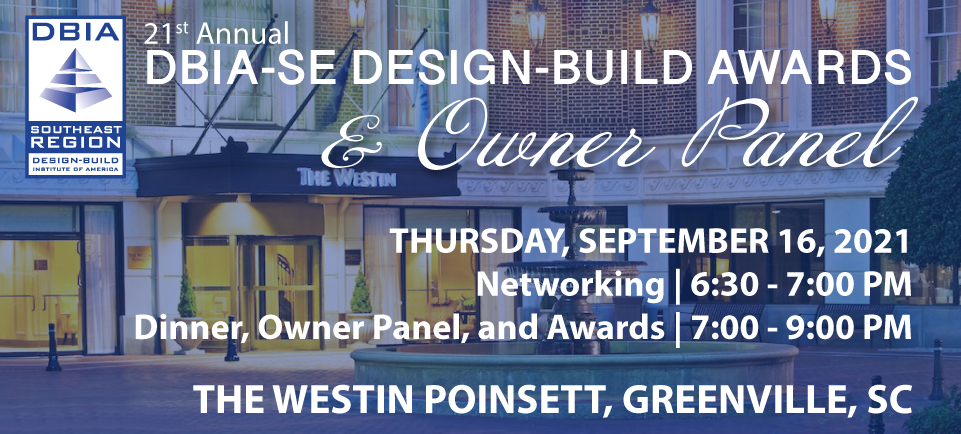 21st Annual DBIA-SE Design-Build Project Team Awards Banquet & Owner Panel
Westin Poinsett
Greenville, SC 29601 
Join DBIA-SE as we celebrate the outstanding projects submitted for the 21st Annual DBIA-SE Design Build Awards at the Westin Poinsett in Greenville, SC on September 16, 2021 from 6:30-9:00 PM.
We will present our 2021 project award winners and Owner of the Year winner, recognize and honor our 2020 winner, enjoy networking and learn what's new in the DB industry from our National DBIA representative(s).
We will also hear from an esteemed panel of owners discussing their successes, lessons learned, and individual approaches to using Design-Build for their projects.
We have reserved a small block of rooms at the Westin Poinsett with the group rate of $169.00/night. Secure your reservations soon, the block is filling quickly.
If you'd like to book additional nights, the group rate is available for three days prior and after our event. You must call to make those reservations. Contact the Westin at 864-421-9700.