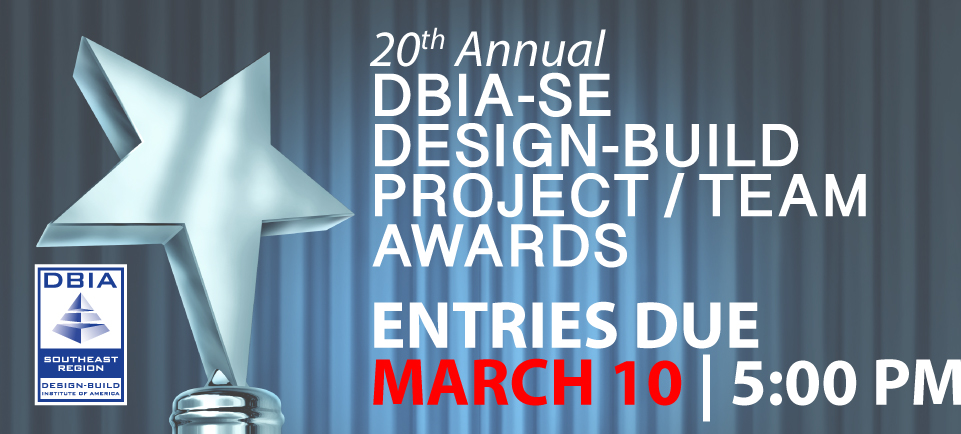 Due to a number of questions we received about the award submission process along with several requests for extension from submitting firms, DBIA-SE has elected to extend the entry deadline by one week.
Entries are now due March 10.
20th Annual
DBIA-SE Regional Summit
& Awards Banquet

May 7, 2020
6:00 PM – 9:00 PM
Kiawah Island Resort
Osprey Point Course Club
700 Governors Drive
Kiawah Island, SC 29455
ABOUT THE AWARDS
DBIA Southeast recognizes exemplary applications of Design-Build Done RightTM that, at a minimum, resulted in highly successful design-build projects achieving best-value while meeting design and construction quality, cost and schedule goals. Winning projects and team members exemplifying design-build best practices will be celebrated publicly through DBIA Southeast's awards programs and external promotion.
To be considered for a design-build award, projects must demonstrate successful application of design-build principles including, but not limited to, interdisciplinary collaboration in the early stages of the project and the acceptance of single-entity risk. The goal of completing projects on-time and on-budget (and with no litigation) is not a criterion for winning an award — it is a minimum standard for all projects submitted. Winning projects are honored for the advanced and innovative application of total integrated project delivery and finding unique solutions for project challenges.